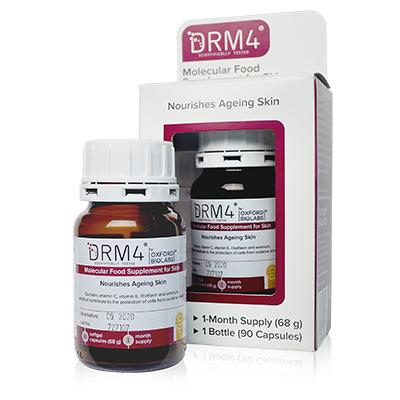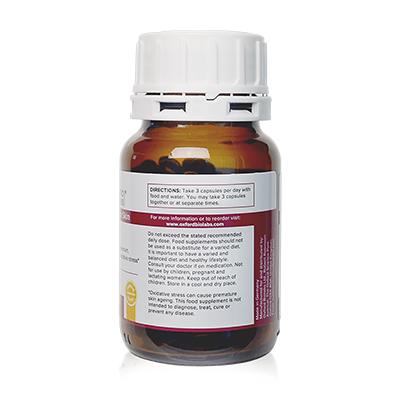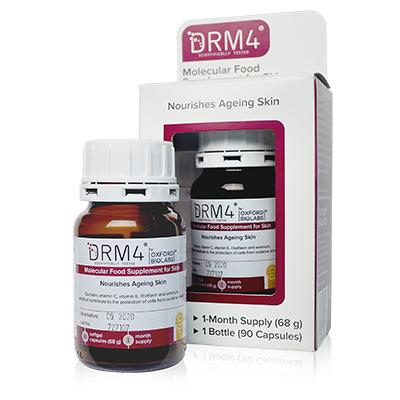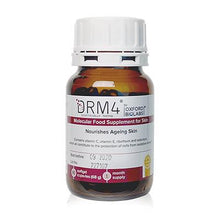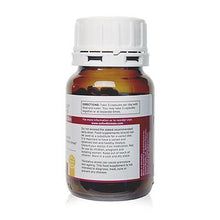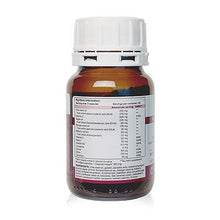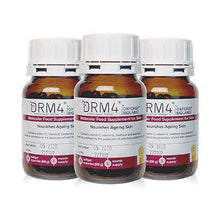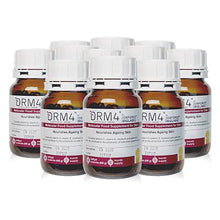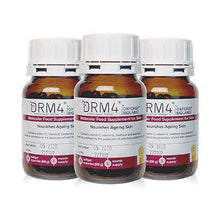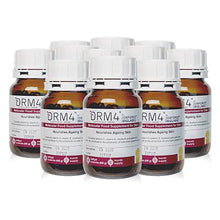 PRODUCT DESCRIPTION
DRM4® Molecular Food Supplement For Skin has been specifically designed for people experiencing signs of premature skin ageing caused by factors like oxidative damage, UV radiation, toxins, and pollution. DRM4® packs a patent-pending formula of omega-3/omega-6 fatty acid rich oils, plant extract, and vitamins and minerals vital for skin health.

Nourishes ageing skin

Protects cells from free radical damage
Includes chia seed oil, which is rich in omega-3 fatty acid
Also contains biotin and niacin - essential B vitamins for supporting and maintaining healthy skin

Includes natural plant extracts high in anthocyanidins and lycopene

Manufactured in Germany
Gluten-free
£55.95 Regular price You save: £-55.95
TAKE CONTROL OF OXIDATIVE STRESS-INDUCED SKIN AGEING
DRM4® has been specifically created for those experiencing premature signs of ageing skin mainly caused by oxidative damage, and those who generally want to tackle unwanted signs of skin ageing.

DRM4® FOOD SUPPLEMENT FOR SKIN
Skin is a mirror of the general state of health. Therefore the condition of the skin is one of the main indicators of what is considered "beauty", and its status can have a critical influence on our psychological and emotional wellbeing. In the absence of pathogenic conditions the appearance of the skin is mainly determined by ageing processes. These will eventually lead over time to a drier, rougher and thinner skin, which has lost fat and is less elastic, with wrinkles and blemishes. The ageing processes are either driven by intrinsic or extrinsic factors. Whereas intrinsic factors are controlled by genes, extrinsic factors, like the environment or lifestyle choices, can lead to premature skin ageing.

By combining a high content of essential omega-3/omega-6 fatty acids, key vitamins and trace elements, strong antioxidants and a berry extract rich in beneficial polyphenols, Oxford Biolabs® developed a unique formula to support and maintain youthful-looking skin. DRM4®, a food supplement for skin, is the result of world-leading research and a combination of high quality, naturally-based ingredients. Three capsules of DRM4® taken per day contribute to the maintenance of normal skin and the protection of cells from oxidative stress.

WHAT CAN I EXPECT?

The supply of important nutrients necessary for skin maintenance
Support of natural skin antioxidant systems
No side effects
No hormone interference
WHAT SHOULD I NOT EXPECT?
An immediate effect. Taking DRM4® regularly and over a prolonged period of time is critical to success
LABEL

HOW IT WORKS
DRM4® Molecular Food Supplement for Skin contains highly valuable vitamins, minerals and essential fatty acids, that can help your skin to cope with oxidative damage and maintain its overall function, slowing down the processes that can lead to premature skin ageing. It contains vitamin C, vitamin E, riboflavin (vitamin B2) and selenium, which all contribute to the protection of cells from oxidative stress, while biotin, riboflavin (vitamin B2), iodine and niacin contribute to the maintenance of normal skin. Additionally vitamin C also contributes to normal collagen formation for the normal function of skin. An important feature of the formulation is the addition of very valuable oils (chia seed oil, oil from the microalgae Schizochytrium sp. and borage seed oil), which contain omega-3/omega-6 polyunsaturated fatty acids. These have been implicated in skin lipid composition and therefore have been considered important for skin function. The formulation also contains the natural plant extracts anthocyanidins and lycopene. These compounds have been linked to antioxidant activity. For more information on the science behind DRM4®, visit our DRM4® product website.
Product Specific
Prof. Werner Kunz talks about DRM4® Skin Anti-Ageing Regimen
SHIPPING COST & DETAILS 
MULTIPLE SHIPPING ADDRESSES
To ship to more than one address, please place a separate order for each shipping address.
CUSTOMER SERVICE
If you have questions about your order, you may email your inquiry to support@oxfordbiolabs.com, use our Live Chat or call us on:
UK: +44 800 808 52 51
USA: +1 702 728 3097
Canada: +1 (855) 586-3440
Germany: +49 32 211 001656
Customer Service hours: Monday - Friday 7 AM - 5 PM (BST); 8 AM - 6 PM (CET); 3 AM - 1 PM (EST); 12 AM - 10 PM (PST)
VAT, IMPORT TAXES AND CUSTOMS FEES
Our prices include VAT. Please note that customers are solely responsible for any import taxes, customs duties, sales taxes and any other levies that may be assessed in your delivery country as well as limitations or free clearance thresholds (e.g. Norway, Switzerland, Israel, Australia, New Zealand etc.)
DID BREXIT AFFECT OUR DELIVERIES?
No, our shipping mechanism remains the same where UK based deliveries are handled by our UK warehouse. Orders to the US, Canada and Mexico are handled by our US warehouse. Other orders within and outside the EU are covered by our German warehouse. 
SHIPPING RESTRICTIONS
Overseas customers are responsible for making sure that they are allowed to import our products. If customs in your country returns your order to us for any reason, we will refund to your credit card account the total of your purchase minus twice your shipping charge (because we must pay our carrier the same shipping charge to return the order to us), plus any other charges incurred, such as quarantine or warehousing fees assessed by customs in your country. For any questions please visit our Knowledge Base reach out to our Customer Service on support@oxfordbiolabs.com.
THE OXFORD BIOLABS® MONEY-BACK GUARANTEE
OXFORD BIOLABS' regular 60-day money-back guarantee is available to all international customers. If you decide to return an order for any reason, or if your order will be returned back after unsuccessful delivery, your credit card account will be fully credited for the amount of the purchase (excluding shipping cost per your shipping zone and handling fee of EUR 5.50).
RETURNS
Email support@oxfordbiolabs.com to obtain a Return Merchandise Authorization. Return the bottle(s) with the unused contents to:
 UK

Oxford Biolabs Ltd.

Pickpack Despatch

Unit 8 Wates Way

Acres Estate

Banbury

Oxfordshire OX16 3TS, UK

USA

Oxford Biolabs USA LLC

℅ Specialty Fulfillment Center Inc

224 Carnation Dr

Nampa, ID 83687

US

International (All others)

dataform dialogservices GmbH

c/o "Oxford Biolabs Ltd".

Feuchtwanger Str. 11

90574 Roßtal

Germany
QUESTIONS & ANSWERS: THE BASICS
How long will it take to see results from DRM4®?

The result from taking DRM4

®

 can vary between individuals. 

However, first visible signs of improved skin condition may be expected as early as three months after first taking the supplement, provided the daily intake recommendations are followed carefully.

Is DRM4®

 

suitable for all ages?

DRM4

®

 is suitable for almost all age groups. But it is not intended to be used by children or pregnant women. 

Has DRM4®

 

been developed for both men and women?

Yes, DRM4

®

 has been developed for both men and women. It contains no hormones or ingredients that interfere with hormonal metabolism.

Can DRM4®

 

be taken at the same time as TRX2®

 

or other food supplements or vitamins?

Yes, DRM4

®

 can be taken at the same time as other food supplements and vitamins. However, it should be ensured that the tolerable upper intake level of any individual compound or vitamin is not exceeded.

Can DRM4®

 

be taken with prescription drugs?

Before taking any dietary supplement and prescription drug simultaneously, a doctor or other suitably qualified healthcare professional should be consulted. Nevertheless, it is unlikely that DRM4

®

 interacts with prescription drugs.

Should a doctor be consulted before taking DRM4®?

DRM4

®

 is not a drug or medicine, nor is it intended to diagnose, treat, cure or prevent any disease. It is a patent pending food supplement containing nutrients to help maintain healthy skin. However, a doctor or other suitably qualified healthcare professional should be consulted before taking any food supplement.

Why is it recommended DRM4®

 

be taken with food?

DRM4

®

 is absorbed more efficiently into the bloodstream when taken together with food.

At what time of day is it best to take DRM4®?

DRM4

®

 can be taken at any time of day, as long as the daily intake recommendations are followed. However, it is recommended to take capsules with the meal. 

Is DRM4®

 

approved by any regulatory agency such as the Food and Drug Administration (FDA), the Medicines and Healthcare Products Regulatory Agency (MHRA), or the European Food Safety Authority (EFSA)?

DRM4

®

 is a non-prescription food supplement product. It is therefore sold in accordance with major international food directives, such as the EU (European Union) Food Supplements Directive 2002/46/EC and the Dietary Supplement Health and Education Act, passed by the United States Congress in 1994. This Act allows the marketing of dietary supplements without prior approval by the US Food and Drug Administration (FDA). However, the FDA still exerts general oversight over product safety and supervises the marketing claims made for dietary supplements.

What do regulatory agencies, such as the FDA, the MHRA, and the EFSA, recommend in regards to evaluating and buying dietary supplements, such as DRM4®?

The United Kingdom Food Standards Agency provides free consumer information at: http://www.food.gov.uk/safereating/chemsafe/supplements/consumer/
The United States Food and Drug Administration (FDA) offers 'Tips for Dietary Supplement Users' at: http://www.fda.gov/Food/DietarySupplements/UsingDietarySupplements/ucm110567.htm

How should DRM4®

 

be stored?

DRM4

®

 should be stored in a cool and dry place, and not be exposed to direct sunlight.

How do you ensure the quality of DRM4®?

Oxford Biolabs is serious and honest about the products it sells to its consumers, aiming to provide safe, high-quality products that deliver effective results. Products are developed in compliance with the most rigorous quality standards. DRM4

®

 capsules are made in Germany at a manufacturing plant that is certified within the European Union according to the highest quality standards. The raw materials used in DRM4

®

 received individual Certificates of Analysis that affirm their composition. Every ingredient, as well as the corresponding packaging materials, is subjected to strenuous quality testing before being accepted into the plant. Throughout the manufacturing process, written Standard Operating Procedures (SOPs) govern every stage of development.

Can DRM4®

 

be taken at the same time as alcohol?

It is not recommended for DRM4

®

 to be taken at the same time as alcohol as this can hamper absorption of nutrients into the bloodstream.

Have patents for DRM4®

 

been filed?

Yes. DRM4

®

 is a patent pending food supplement.

What are the natural dietary sources of each of the major DRM4® components?

The principal dietary sources of DRM4® ingredients are:
- alpha-Linolenic acid (ALA): chia seeds and chia seed oil, flax seeds and flaxseed oil, canola oil, and pumpkin seeds and pumpkin seed oil.
- Docosahexaenoic acid (DHA): algae oil, and different kinds of fish, such as anchovy, herring, salmon.
- Vitamin C: acerola, sea buckthorn, bell pepper, black currant, parsley, broccoli, kiwi, papaya, and citrus fruits.
- gamma-Linolenic acid (GLA): borage oil, spirulina, and hemp oil.
- Anthocyanidins: billberries, red and black grapes, red cabbage, red onions, eggplant, blackberries, raspberries, cranberries, and other berries.
- Vitamin E: nuts, seeds, and leafy green vegetables, such as spinach.
- Niacin: poultry, such as turkey and chicken, peanuts, mushrooms, tuna, and green peas.
- Vitamin B2: beef liver, lamb, dairy products, such as milk or natural yoghurt, mushrooms, and spinach.
- Lycopene: tomatoes, watermelons, pink grapefruit, papaya, and rose hips.
- Iodine: sea vegetables, wild-caught fish, cranberries, and natural yoghurt.
- Biotin: cereals, chocolate, egg yolks, legumes, milk, and nuts.
- Selenium: vegetables, fish, shellfish, red meat, grains, eggs, chicken, liver, and garlic.

How is the daily intake of DRM4®

 

determined?

It is recommended that three capsules be taken each day with food. All three capsules may be taken together or at separate times, however we recommend taking one capsule each with the main meals of the day, in the morning at noon and in the evening. This recommendation is based on a number of studies and publications carried out over the past few years. Each of the key ingredients were studied separately over a wide range of doses in order to determine the levels at which the ingredients are well tolerated and can best contribute to the maintenance of the skin. 

Does DRM4®

 

contain any major food allergens

According to EU regulation 1169/2011, the most frequent triggers of allergies and food intolerances are gluten, crustacean shellfish, eggs, fish, peanuts, soybeans, milk, nuts, celery, mustard, sesame seeds, sulfur dioxide and sulphites, lupines and molluscs. The DRM4

®

 formula and its ingredients per se contain soy. In addition, traces of major allergens may not be excluded due to the fact that the equipment used for encapsulation at our manufacturing plant is also used for the production of other products, which may contain traces of major allergens. Should you experience any allergic reactions and/or side effects, stop taking DRM4

®

 and consult a doctor or healthcare professional for further guidance.

Is DRM4®

 

suitable for vegetarians?

No, DRM4

®

 is not suitable for vegetarians, since the capsule shell is made of beef gelatin.

What are the possible side effects of taking DRM4®?

The ingredients in the DRM4

®

 capsules consist entirely of drug-free compounds, all of which occur naturally. If any reactions occur whilst taking DRM4

®

, consumption should be stopped immediately and a doctor or other suitably qualified healthcare professional consulted. Pregnant women and nursing mothers should avoid consuming DRM4

®

 due to the lack of long-term safety data.