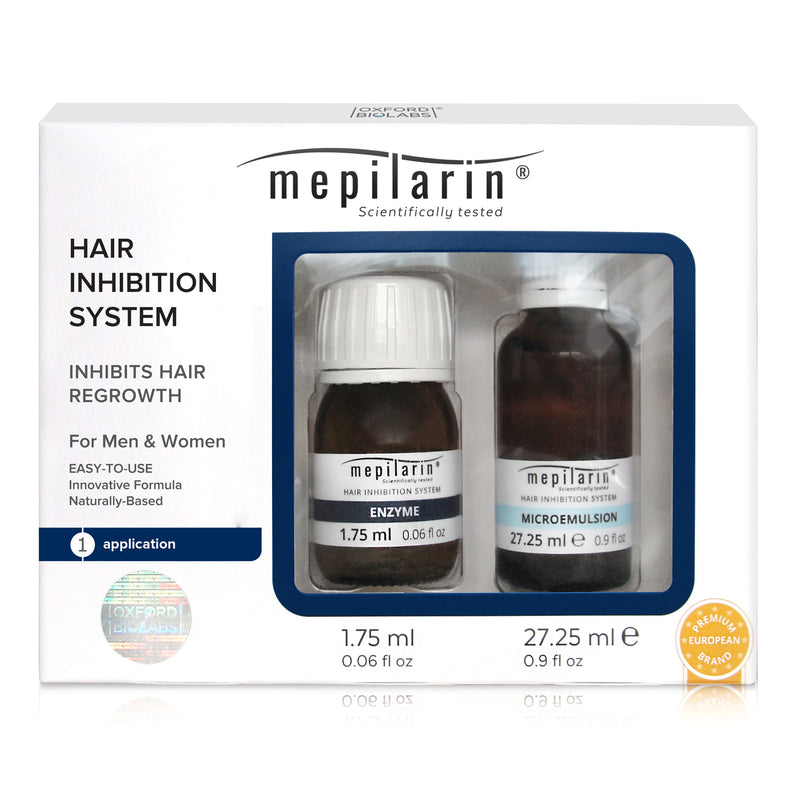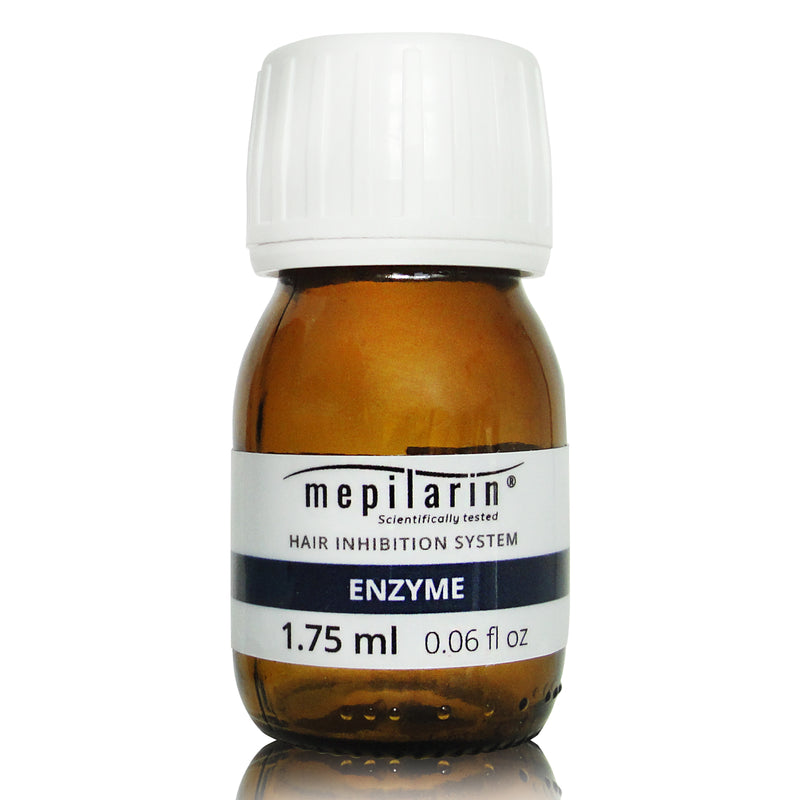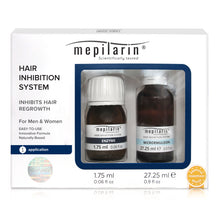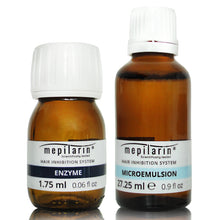 PRODUCT DESCRIPTION
Mepilarin® is an innovative, naturally based post-epilation system that is scientifically formulated using premium-quality ingredients. With every application, you are one step closer to permanent hair removal. Suitable for home application, it helps to reduce the irritation and frequency of painful hair epilation.
Use of Mepilarin® will result in attractive, smooth and luminous skin.
For men and women 

Can be used after any epilation method

Suits all skin and hair types

Suitable for all body parts, for external application only 

Inhibits hair regrowth at the follicle level 

Beautifies epilated skin

Makes hair thinner, lighter and weaker even after the first application 

Tested under dermatological supervision

Naturally-based formula

Developed in Oxford, UK and manufactured in Germany
£52.95 Regular price You save: £-52.95
YOUR CHANCE TO ACHIEVE HAIRLESS SMOOTH AND LUMINOUS SKIN 
Mepilarin® comes in two bottles: Microemulsion and Enzyme. The contents should be mixed in order to activate the post-epilation lotion that enhances the results of hair removal. The microemulsion-based formulation delivers the active enzyme directly to the hair follicles, in order to weaken future hair regrowth. Mepilarin® also soothes and nourishes the epilated skin. 
Oxford Biolabs® scientists have developed a novel method of reducing hair growth, the new Mepilarin® Hair Inhibition System, which will enhance and optimise the results of your epilation procedure. Specifically formulated to reduce the number of painful hair removal treatments. Our product will bring you a step nearer to permanent hair removal with every application.
The innovative epilation system contains high-quality active ingredients and is produced in Germany. It represents the best and most effective solution for those who suffer from unwanted hair. Mepilarin® is specifically developed for those who prefer to eliminate hair growth by natural pain-free means and enjoy beautiful, glowing skin straight after epilation.
HOW IT WORKS
Mepilarin® Hair Inhibition System is a cosmetic product that is applied to freshly epilated skin. The product acts on the hair-forming cells of the hair follicle, in order to weaken the regrowth capability of the follicles. Mepilarin® additionally soothes the skin after epilation.
The microemulsion facilitates the delivery of the active compound (a proteolytic enzyme) to the hair follicles. The microemulsion-based delivery is the main feature that makes the product one of the most innovative on the market. 
The product works by means of the proteolytic activity of the enzyme on the epilated hair follicle. The enzyme reduces the ability of the hair follicle to renew the epilated hair. It will take longer for the hair to regrow and the regrown hair will be much weaker than without treatment. With weaker hair regrowth, future epilation cycles will become less painful. Over the course of several applications, the area being treated  will start to look permanently hair-free.
WHAT IS EPILATION?
Epilation is a hair removal procedure which involves removal of the entire hair, including the part below the skin (the hair root). Methods include waxing, sugaring, epilation devices, lasers, threading, intense pulsed light or electrical means. Hair is also sometimes removed by plucking with tweezers.
Which type of hair removal procedure would you recommend using prior to the Mepilarin® Hair Inhibition System?
We recommend hot waxing as the most effective hair removal procedure prior to the application of Mepilarin®. But you can also opt for any other hair removal process which will eliminate hair at the root level. We would rate the epilation procedures with regard to effectiveness in the following decreasing order: 
hot waxing / cold waxing (wax strips) > sugaring > electrical epilator devices >  threading > tweezers.
WHAT SHOULD I EXPECT?
Slower regrowth of unwanted hair

with longer periods of time between epilation treatments

Visible results such as smooth and luminous skin

No major side effects. No hormone interference.
WHAT SHOULD I NOT EXPECT?
Overnight results. Using the Mepilarin

®

regularly according to recommendations is critical to success.

Immediate permanent hair removal. As mentioned above, it depends on your hair type, area of epilation and the quality of your hair removal process. Dark and thick hair will require more applications than light and thin hair types. 
SHIPPING COST & DETAILS 
MULTIPLE SHIPPING ADDRESSES
To ship to more than one address, please place a separate order for each shipping address.
CUSTOMER SERVICE
If you have questions about your order, you may email your inquiry to support@oxfordbiolabs.com, use our Live Chat or call us on:
UK: +44 800 808 52 51
USA: +1 702 728 3097
Canada: +1 (855) 586-3440
Germany: +49 32 211 001656
Customer Service hours: Monday - Friday 7 AM - 5 PM (BST); 8 AM - 6 PM (CET); 3 AM - 1 PM (EST); 12 AM - 10 PM (PST)
VAT, IMPORT TAXES AND CUSTOMS FEES
Our prices include VAT. Please note that customers are solely responsible for any import taxes, customs duties, sales taxes and any other levies that may be assessed in your delivery country as well as limitations or free clearance thresholds (e.g. Norway, Switzerland, Israel, Australia, New Zealand etc.)
DID BREXIT AFFECT OUR DELIVERIES?
No, our shipping mechanism remains the same where UK based deliveries are handled by our UK warehouse. Orders to the US, Canada and Mexico are handled by our US warehouse. Other orders within and outside the EU are covered by our German warehouse. 
SHIPPING RESTRICTIONS
Overseas customers are responsible for making sure that they are allowed to import our products. If customs in your country returns your order to us for any reason, we will refund to your credit card account the total of your purchase minus twice your shipping charge (because we must pay our carrier the same shipping charge to return the order to us), plus any other charges incurred, such as quarantine or warehousing fees assessed by customs in your country. For any questions please visit our Knowledge Base reach out to our Customer Service on support@oxfordbiolabs.com.
THE OXFORD BIOLABS® MONEY-BACK GUARANTEE
OXFORD BIOLABS' regular 60-day money-back guarantee is available to all international customers. If you decide to return an order for any reason, or if your order will be returned back after unsuccessful delivery, your credit card account will be fully credited for the amount of the purchase (excluding shipping cost per your shipping zone and handling fee of EUR 5.50).
RETURNS
Email support@oxfordbiolabs.com to obtain a Return Merchandise Authorization. Return the bottle(s) with the unused contents to:
 UK

Oxford Biolabs Ltd.

Pickpack Despatch

Unit 8 Wates Way

Acres Estate

Banbury

Oxfordshire OX16 3TS, UK

USA

Oxford Biolabs USA LLC

℅ Specialty Fulfillment Center Inc

224 Carnation Dr

Nampa, ID 83687

US

International (All others)

dataform dialogservices GmbH

c/o "Oxford Biolabs Ltd".

Feuchtwanger Str. 11

90574 Roßtal

Germany
How long will it take to see results?

The results for individuals using Mepilarin

®

vary from person to person. The initial results may appear as soon as after the first application. For others, the results may not be apparent until after the fourth or even the eighth application. The results of in-house testing showed a positive outcome in reducing the amount of unwanted hair after five applications.

* 



*hence the best results will be achieved using hot-waxing
How should I apply Mepilarin

®

?

- Thoroughly remove the unwanted hair by means of hot waxing, sugaring or any other epilation method that removes hair at the root. During the hair removal treatment, please follow carefully the instructions which accompany the epilation method of your choice.

- Make sure to apply Mepilarin® to clean and dry skin after all epilation residue has been removed.

- Prepare the Mepilarin® Hair Inhibition System by pouring the Microemulsion into the bottle containing the Enzyme.

- Close the Enzyme bottle securely and shake vigorously. Please apply immediately, not later than 10 minutes after the hair removal.

- Use the enclosed pipette to apply the freshly prepared Mepilarin® to the epilated skin.

- Use your fingers to massage the mixture into the skin and wash your hands well afterwards.

- Wait at least 10 minutes until the product has been absorbed before putting on clothes etc.

- After the enzyme activation, the prepared mixture will stay active for 2 to 3 days when kept in the fridge. To maximise the results you can apply it to the epilated areas, making use of its skin-beautifying properties.

- It is recommended that Mepilarin® should be used after every epilation until permanent hair removal has been achieved.
At what age can I start using Mepilarin®?

Adults aged 18 years and older can use the

Mepilarin®

Hair Inhibition System.
Can Mepilarin® harm a freshly epilated area of skin?

Mepilarin®

has been dermatologically tested and has proved its excellent skin compatibility after hair removal. We took special care to formulate it according to the highest safety standards. It is recommended that a simple allergy test is carried out on a small area of skin prior to the application of the product to the intended area of the body. Nevertheless, it shouldn't be used in the case of known sensitivities or allergies to one or more of the lotion's ingredients. If you experience any adverse reactions, cease use of the lotion immediately and seek medical advice. 
When should I not use the product?

In principle, Mepilarin® should only be used by adults aged 18 years or older. It should not be used in the following cases:

- If allergic to any of the ingredients contained in the lotion
- On irritated, inflamed, infected skin or on a wound
- For other reasons of incompatibility

If you are unsure, seek medical advice before using it for the first time.
How should I store Mepilarin®?

Mepilarin®

should be stored in a dark and dry place without direct sunlight at room temperature before opening. Onсe opened, please store the ready-made mixture in the fridge. Keep it out of the reach of children.
Which ingredients does Mepilarin® contain?

Ingredients:

caprylic/capric triglyceride, propyl alcohol, lecithin, water, propylene glycol, trypsin, disodium phosphate, sodium phosphate.
How long will one mixture of Mepilarin

®

last?

After mixing the 2 bottles of Mepilarin, one application will contain 29 ml (0.98 fl oz NET) of the post-epilation lotion. How much

product is needed depends on the area of epilation. Depending on the extent of the application, some of the mixture may be left over. In this case, it can be kept in the fridge and applied to the epilated area later the same day or the next day.

Subject: Female, 24 years old
Epilation type:  Hot waxing, arm pit
Treatment: Mepilarin®

Subject: Female, 34 years old
Epilation type:  Hot waxing, arm pit
Treatment: Mepilarin®

Subject: Female, 34 years old
Epilation type:  Hot waxing, arm pit
Treatment: Mepilarin®
Subject: Female, 30 years old
Epilation type:  Hot waxing, arm pit
Treatment: Mepilarin®
Subject: Female, 45 years old
Epilation type:  Hot waxing, arm pit
Treatment: Mepilarin®
Subject: Female, 28 years old
Epilation type:  Hot waxing, arm pit
Treatment: Mepilarin®

Subject: Female, 42 years old
Epilation type:  Hot waxing, arm pit
Treatment: Mepilarin®