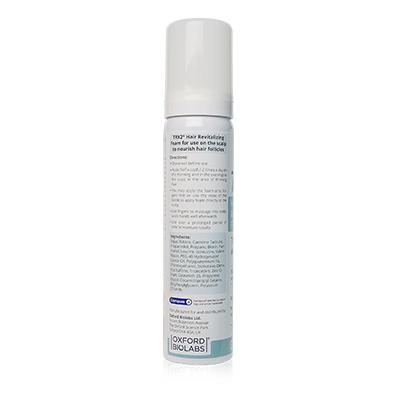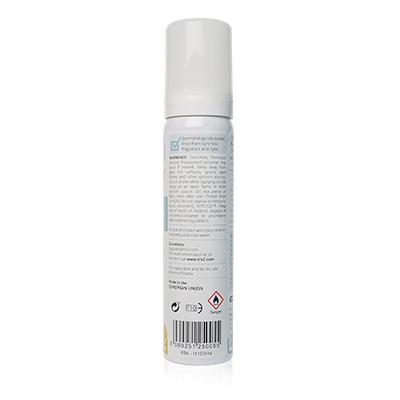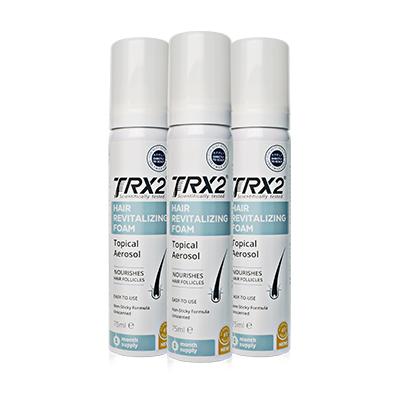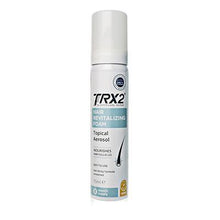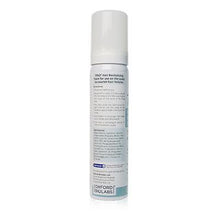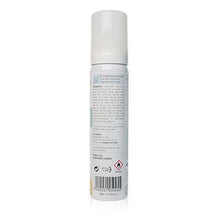 PRODUCT DESCRIPTION
TRX2® Hair Revitalising Foam is based on the same effective formula as TRX2® food supplement. It contains Potassium chloride, Carnipure™ tartrate (L-carnitine – L-tartrate), BCAA and niacin delivered via a proprietary potassium channel — stimulating complex. TRX2® Foam also contains Biotin, which contributes to the maintenance of normal hair. TRX2® Hair Revitalising Foam is a topical solution produced using naturally-based ingredients. It is developed for use on the scalp to nourish hair follicles.
Developed in Oxford
Product designed for those experiencing hair-loss and thinning (Norwood stages 1-4)
Includes nutrients which contribute to the maintenance of normal hair
Dermatologically tested. Free from synthetic fragrance and dyes
Not tested on animals
Suitable for vegetarians
Manufactured in Germany
£42.36 Regular price You save: £-42.36
TRX2® MOLECULAR HAIR REGIMEN DEVELOPED BY OXFORD SCIENTISTS
With an in-depth understanding of the science behind hair loss, and following an extended period of Oxford-based research, Oxford Biolabs® developed TRX2®, a naturally-based, scientifically-formulated molecular hair support regimen. Produced in Germany, and using high quality ingredients, this unique, drug-free regimen influences the functioning of hair follicles. It utilises the foremost understanding of potassium channels within hair follicles, an innovative approach developed by the Oxford Biolabs® team.
HOW IT WORKS
Potassium channels are small pore-forming protein structures that control the transport of nutrients across the hair follicle's cell membrane. As people experience hair loss, the function of potassium channels diminishes. The effect is an impaired membrane potential and interrupted transport of nutrients into the hair, resulting in shrinking follicles and thinning hair. TRX2® synthesizes the latest scientific knowledge on the molecular mechanisms with an aim to positively influence the functioning of hair follicles.
The daily intake of TRX2® will provide a combination of powerful nutritional stimulants (potassium, BCAA, nicotinamide) with a pure form of a naturally-generated substance (L-Carnitine-L-Tartrate) that stimulates the potassium ion channels within hair follicles. This technique helps to facilitate the entry of regulatory compounds and essential nutrients into the hair follicle membrane.
PRODUCT'S LABEL
WHAT CAN I EXPECT?
Visual improvements in hair texture and thickness.
Slow but steady hair improvement. For the majority of customers using TRX2®, the first stages of recovery become visible after 3-5 months and cosmetically significant results usually appear after 8-10 months. Particular results and response time may vary and are subject to your individual metabolism.
No major side effects. No hormone interference.
WHAT SHOULD I NOT EXPECT?
Overnight results. Using TRX2® regularly and over a prolonged period of time is critical to success.
TRX2® is a Hair Support Regimen specifically designed for men and women suffering from the early stages of hair loss (Norwood 1-4)*. The effects on more advanced stages of hair loss will be less pronounced.
SHIPPING COST & DETAILS 
MULTIPLE SHIPPING ADDRESSES
To ship to more than one address, please place a separate order for each shipping address.
CUSTOMER SERVICE
If you have questions about your order, you may email your inquiry to support@oxfordbiolabs.com, use our Live Chat or call us on:
UK: +44 800 808 52 51
USA: +1 702 728 3097
Canada: +1 (855) 586-3440
Germany: +49 32 211 001656
Customer Service hours: Monday - Friday 7 AM - 5 PM (BST); 8 AM - 6 PM (CET); 3 AM - 1 PM (EST); 12 AM - 10 PM (PST)
VAT, IMPORT TAXES AND CUSTOMS FEES
Our prices include VAT. Please note that customers are solely responsible for any import taxes, customs duties, sales taxes and any other levies that may be assessed in your delivery country as well as limitations or free clearance thresholds (e.g. Norway, Switzerland, Israel, Australia, New Zealand etc.)
DID BREXIT AFFECT OUR DELIVERIES?
No, our shipping mechanism remains the same where UK based deliveries are handled by our UK warehouse. Orders to the US, Canada and Mexico are handled by our US warehouse. Other orders within and outside the EU are covered by our German warehouse. 
SHIPPING RESTRICTIONS
Overseas customers are responsible for making sure that they are allowed to import our products. If customs in your country returns your order to us for any reason, we will refund to your credit card account the total of your purchase minus twice your shipping charge (because we must pay our carrier the same shipping charge to return the order to us), plus any other charges incurred, such as quarantine or warehousing fees assessed by customs in your country. For any questions please visit our Knowledge Base reach out to our Customer Service on support@oxfordbiolabs.com.
THE OXFORD BIOLABS® MONEY-BACK GUARANTEE
OXFORD BIOLABS' regular 60-day money-back guarantee is available to all international customers. If you decide to return an order for any reason, or if your order will be returned back after unsuccessful delivery, your credit card account will be fully credited for the amount of the purchase (excluding shipping cost per your shipping zone and handling fee of EUR 5.50).
RETURNS
Email support@oxfordbiolabs.com to obtain a Return Merchandise Authorization. Return the bottle(s) with the unused contents to:
 UK

Oxford Biolabs Ltd.

Pickpack Despatch

Unit 8 Wates Way

Acres Estate

Banbury

Oxfordshire OX16 3TS, UK

USA

Oxford Biolabs USA LLC

℅ Specialty Fulfillment Center Inc

224 Carnation Dr

Nampa, ID 83687

US

International (All others)

dataform dialogservices GmbH

c/o "Oxford Biolabs Ltd".

Feuchtwanger Str. 11

90574 Roßtal

Germany
QUESTIONS & ANSWERS
How long will it take to see results?

The outcome for individuals applying TRX2® topical solutions varies widely from person to person. For some individuals, first results appear as early as 12 weeks. For others, results are not apparent until 8-12 months after the initiation of consistent application of foam or lotion. However, for the majority of customers, first visible results can be expected after 5 months*.

Are TRX2® Hair Revitalizing Foam and TRX2® Hair Revitalizing Lotion developed for men and women?

Yes. Both topical solutions are designed equally for men and women.

Is there any difference between the two topical solutions (TRX2® Hair Revitalizing Foam and TRX2® Hair Revitalizing Lotion)?

TRX2® Hair Revitalizing Foam and TRX2® Hair Revitalizing Lotion are both applied directly to the scalp. Their formulation is based on the same active compounds and the same mechanism of penetration. The only differences between the foam and lotion are their texture and the method of application. The foam dispenser allows you to apply the foam in an easy, controlled manner, while the lotion dropper helps you to achieve more targeted application to the area of thinning hair.

How can I make a choice between TRX2® Hair Revitalizing Foam and TRX2® Hair Revitalizing Lotion?

Both new products are based on the same formula, which means that the same active ingredients are responsible for affecting on hair growth, act in the same way and are therefore equally effective. You can choose whichever product you prefer.

How long will one bottle of TRX2® Hair Revitalizing Foam or TRX2® Hair Revitalizing Lotion last?

Each bottle contains a one-month supply of topical solution, provided each is used according to the recommendations and directions of application.

Can I switch between TRX2® Hair Revitalizing Foam and TRX2® Hair Revitalizing Lotion?

Yes, you can easily switch between both products.

Can I use the foam and lotion at the same time?

Yes. You can switch between products during the same period of time, but please do not change the recommended dosage - twice a day (in the morning and in the evening). The combined dosage should not exceed a single recommended dosage. You will not see quicker results by using both products simultaneously or more frequently. In order to succeed it is important to use the product(s) over a prolonged period of time, consistently and according to the directions.

Can I combine TRX2® Molecular Food Supplement for Hair with TRX2® Hair Revitalizing Foam or TRX2® Hair Revitalizing Lotion?

Yes. You can take the food supplement while simultaneously using the foam or lotion. This helps to strengthen your thinning hair from the inside as well as from the outside.

Can I wash, style, dye or perm my hair as usual while using TRX2® Topical Solution?

Yes, you can follow your daily haircare regime while using the topical solution, provided this is not harmful to your hair or scalp. Please make sure you follow the recommendations about TRX2® product usage. Leaving the product on the scalp over the night/day is recommended.

Can the condition of my hair be affected while using TRX2® Hair Revitalizing Foam or TRX2® Hair Revitalizing Lotion?

The TRX2® topical solutions have non-sticky (foam) and non-greasy (lotion) formulas. Provided you follow our directions, the products will not affect the condition of your hair.

Can this product harm the skin of my scalp?

The product has been designed with great care. Dermatological testing has proven it to be harmless.

At what age can I start using TRX2® Hair Revitalizing Foam or TRX2® Hair Revitalizing Lotion?

Adults (over the age of 18) can use TRX2® Hair Revitalizing Foam or TRX2® Hair Revitalizing Lotion whatever their age.

How should I apply foam?

When using TRX2® Foam for the first time, remove the cap. Shake well each time before use. Part your dry (or towel dry) hair in the affected area. Push the dispenser button down gently. Dispense recommended amount of TRX2® Foam while holding can straight upside down. You may apply the foam onto your fingers first or use the nose of the bottle to apply the foam directly onto the scalp, before massaging the foam into your scalp with your fingers. Wash your hands well afterwards. Blow dry or style your hair only after the foam has completely absorbed into your scalp. Allow enough time to dry your hair before going to bed. Allow TRX2® Foam to stay on your scalp for a few hours before washing your hair. Apply TRX2® Foam twice a day, in the morning and in the evening. To ensure long-term results, use TRX2® Foam consistently, over a prolonged period of time, as part of your daily routine, and apply it properly. In case of contact with the eyes, rinse immediately with cool water.


How should I store TRX2® foam?

Extremely flammable aerosol. Pressurized container: may burst if heated. Keep away from heat, hot surfaces, sparks, open flames and other ignition sources. Do not smoke while applying. Do not spray on an open flame or other ignition source. Do not pierce or burn, even after use. Protect from sunlight. Do not expose to temperatures exceeding 50°C/122 °F. Keep it out of the reach of children. Dispose of contents/container in accordance with national regulations.