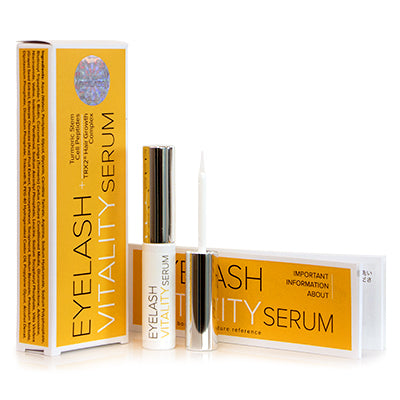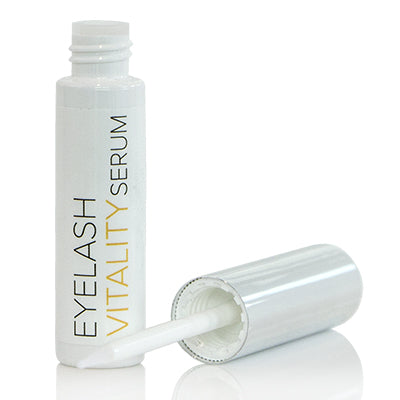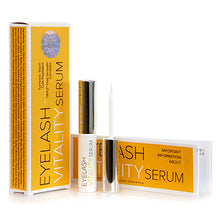 PRODUCT DESCRIPTION
The new and innovative EYELASH VITALITY SERUM from Oxford Biolabs has a natural, rich formula based on a combination of powerful Turmeric stem cell peptides and a biotinylated form of tripeptide-1. The serum also features the ground-breaking TRX2® Hair Growth Complex. These core ingredients are combined in a vitamin-rich serum that contains important amino acids and adenosine, grape seed and Acai berry extracts,  as well as hyaluronic acid. The serum improves your eyelashes, making them thicker, longer and healthier-looking, thereby beautifying your eyes to the full.
Prevents premature loss of lashes, protects against breakage and improves strength and flexibility
Features Turmeric Stem Cell Peptides and the ground-breaking TRX2® Hair Growth Complex
96% of study subjects confirmed the beneficial effect on eyelash length, thickness and strength
Tested under dermatological and ophthalmological supervision
Naturally-based formulation, suitable for women and men
Hypoallergenic, recommended for contact lens wearers
Developed in Oxford, UK and manufactured in Germany
£164.95 Regular price £236.85 You save: £71.90
UNLEASH THE NATURAL BEAUTY OF YOUR LASHES!
Based on Oxford Biolabs' expertise in hair growth biology the new EYELASH VITALITY SERUM represent the newest innovation in hair loss remedies. Specifically formulated to nourish and enhance eyelashes, it aims to make the most of your lashes: natural beauty!
This outstanding lash regimen, containing high-quality ingredients and manufactured in Germany, represents the best and most innovative treatment available. A treatment your lashes deserve!
HOW IT WORKS
Eyelash follicles can be exposed to various stress factors such as eye make-up, artificial eyelashes, UV-radiation or insufficient supply of nutrients. Oxford Biolabs' EYELASH VITALITY SERUM protects and strengthens the lash follicles by supplying them with a rich blend of ingredients that support the fast-dividing cells. The core ingredients include Turmeric stem cell peptides, the ground-breaking TRX2® Hair Growth Complex, grape seed and Acai berry extracts, as well as a blend of essential vitamins ( vitamin C, biotin (vitamin B7), panthenol (provitamin B5), niacinamide (vitamin B3) and vitamin E).
Whereas the Turmeric stem cell peptides create an optimal microenvironment in which to reactivate hair growth and regenerate the hair follicles,  the TRX2® Hair Growth Complex helps to increase the supply of nutrients to the follicles. The extracts from grape seeds and Acai berries contain strong antioxidants that help to protect the skin and the embedded follicles from oxidative stress.
WHAT CAN I EXPECT?
Visually improved eyelashes.
Cumulative improvement. For the majority of customers using the EYELASH VITALITY SERUM, the first results will be visible after 4 weeks and cosmetically significant results usually appear from 8 to 10 weeks.
No major or minor side-effects. No hormone involvement.
WHAT SHOULD I NOT EXPECT?
Overnight results. Using the EYELASH VITALITY SERUM regularly and according to directions is critical to success.
Excessively thick, unnaturally long, and artificial-looking lashes.
*According to a four-week clinical trial carried out on the performance by a third party laboratory in 2018
SHIPPING COST & DETAILS 
MULTIPLE SHIPPING ADDRESSES
To ship to more than one address, please place a separate order for each shipping address.
CUSTOMER SERVICE
If you have questions about your order, you may email your inquiry to support@oxfordbiolabs.com, use our Live Chat or call us on:
UK: +44 800 808 52 51
USA: +1 702 728 3097
Canada: +1 (855) 586-3440
Germany: +49 32 211 001656
Customer Service hours: Monday - Friday 7 AM - 5 PM (BST); 8 AM - 6 PM (CET); 3 AM - 1 PM (EST); 12 AM - 10 PM (PST)
VAT, IMPORT TAXES AND CUSTOMS FEES
Our prices include VAT. Please note that customers are solely responsible for any import taxes, customs duties, sales taxes and any other levies that may be assessed in your delivery country as well as limitations or free clearance thresholds (e.g. Norway, Switzerland, Israel, Australia, New Zealand etc.)
DID BREXIT AFFECT OUR DELIVERIES?
No, our shipping mechanism remains the same where UK based deliveries are handled by our UK warehouse. Orders to the US, Canada and Mexico are handled by our US warehouse. Other orders within and outside the EU are covered by our German warehouse. 
SHIPPING RESTRICTIONS
Overseas customers are responsible for making sure that they are allowed to import our products. If customs in your country returns your order to us for any reason, we will refund to your credit card account the total of your purchase minus twice your shipping charge (because we must pay our carrier the same shipping charge to return the order to us), plus any other charges incurred, such as quarantine or warehousing fees assessed by customs in your country. For any questions please visit our Knowledge Base reach out to our Customer Service on support@oxfordbiolabs.com.
THE OXFORD BIOLABS® MONEY-BACK GUARANTEE
OXFORD BIOLABS' regular 60-day money-back guarantee is available to all international customers. If you decide to return an order for any reason, or if your order will be returned back after unsuccessful delivery, your credit card account will be fully credited for the amount of the purchase (excluding shipping cost per your shipping zone and handling fee of EUR 5.50).
RETURNS
Email support@oxfordbiolabs.com to obtain a Return Merchandise Authorization. Return the bottle(s) with the unused contents to:
 UK

Oxford Biolabs Ltd.

Pickpack Despatch

Unit 8 Wates Way

Acres Estate

Banbury

Oxfordshire OX16 3TS, UK

USA

Oxford Biolabs USA LLC

℅ Specialty Fulfillment Center Inc

224 Carnation Dr

Nampa, ID 83687

US

International (All others)

dataform dialogservices GmbH

c/o "Oxford Biolabs Ltd".

Feuchtwanger Str. 11

90574 Roßtal

Germany
How long will it take to see results?

The outcome for individuals using The EYELASH VITALITY SERUM varies from person to person. First results may appear as early as 2 weeks after the first application. For others, the results will not be apparent until 6-8 weeks later. However, for the majority of customers, the first visible results may be expected after 4 weeks*.

How should I apply the EYELASH VITALITY SERUM?

1. Thoroughly remove any eye make-up or cream using a mild cleansing solution.
2. When removing the applicator from the bottle, wipe off any excess serum on the rim.
3. Apply the EYELASH VITALITY SERUM to the bottom of the upper lashes along the lash line from the corner of the eye outwards. One stroke per application is sufficient.
4. Apply the serum in the same way to the lower lash line.
5. Use the serum twice a day, in the morning and before bedtime, in order to achieve the best possible result.
6. Wait until the serum has been absorbed before applying make-up or cream.

Precautions:

Keep out of reach of children. Store at room temperature. In case of contact with eyes, rinse immediately with cold water. In the unlikely event of persisting irritation, cease use and seek medical advice. For external use only.
Can I use mascara, eye make-up or eye cream during the treatment with EYELASH VITALITY SERUM?

Yes, you can follow your daily skin care routine while using the serum, provided it is not harmful to eyelids and lashes. Please make sure you follow the directions in the information booklet and apply the serum only when your eyelids and lashes are dry and free from grease.

At what age can I start using the EYELASH VITALITY SERUM?

Adults 18 years and older can use the EYELASH VITALITY SERUM.

Can the EYELASH VITALITY SERUM harm the skin of my eyelids?

The EYELASH VITALITY SERUM has been dermatologically and ophthalmologically tested, with results that show it has excellent tolerability for use on periocular skin. We have taken great care to formulate the serum  in compliance with the highest safety standards. Nevertheless, it shouldn't be used in the case of known sensitivities or allergies to one or more of the serum's ingredients. If you experience any adverse reaction, cease use of the serum immediately and seek medical advice.

When should I not use the product?

In principle, the EYELASH VITALITY SERUM should only be used by adults 18 years of age and older. It should not be used in case of:
- An allergy to any of the ingredients contained in the serum
- Eyes that are irritated, inflamed or infected
- Other reasons for incompatibility.
If you are unsure, seek medical advice before using it for the first time.

How should I store the EYELASH VITALITY SERUM?

The EYELASH VITALITY SERUM should be protected from sunlight. Store it at room temperature. Keep it out of the reach of children.

What are the ingredients of the EYELASH VITALITY SERUM?

Ingredients: Aqua (Water), Pentylene Glycol, Glycerin, Carnitine Tartrate, Arginine, Sodium Hyaluronate, Sodium Polyphosphate, Biotinoyl Tripeptide-1, Biotin, Curcuma Longa (Turmeric) Callus Culture Conditioned Media, Gluconolactone, Adenosine, Niacinamide, Valine, Isoleucine, Panthenol, Sodium Ascorbyl Phosphate, Leucine, Sodium Tocopheryl Phosphate, Vitis Vinifera (Grape) Seed Extract, Euterpe Oleracea (Acai) Fruit Extract, Phenoxyethanol, Tocopherol, Sodium Benzoate, Potassium Sorbate, Dipotassium Phosphate, Disodium Phosphate, Trideceth-9, PEG-40 Hydrogenated Castor Oil, Propylene Glycol, Alcohol Denat.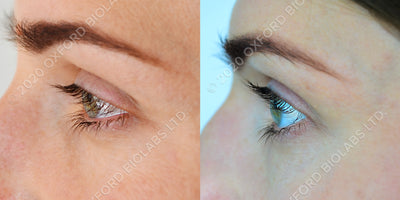 Subject: Female, 23 years old
Treatment:  Application of Oxford Biolabs® Eyelash Vitality Serum
Duration: 7 Weeks
2017, Eyelash Vitality Serum Case study by Oxford Biolabs Ltd., UK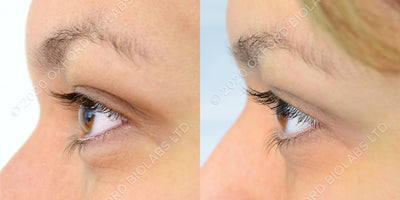 Subject: Female, 28 years old
Treatment:  Application of Oxford Biolabs® Eyelash Vitality Serum
Duration: 7 Weeks
2017, Eyelash Vitality Serum Case study by Oxford Biolabs Ltd., UK
Subject: Female, 25 years old
Treatment:  Application of Oxford Biolabs® Eyelash Vitality Serum
Duration: 12 Weeks
2017, Eyelash Vitality Serum Case study by Oxford Biolabs Ltd., UK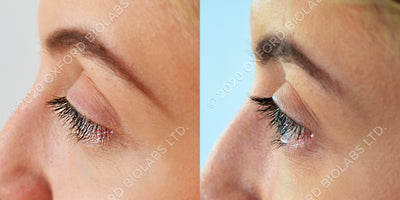 Subject: Female, 25 years old
Treatment:  Application of Oxford Biolabs® Eyelash Vitality Serum
Duration: 13 Weeks
2017, Eyelash Vitality Serum Case study by Oxford Biolabs Ltd., UK